Welcome to Climate & Style, your monthly guide to mindful spending.
Today, we're talking all about food. From climate-friendly chocolate and cheese to discussing the growing popularity of plant-based fine dining to a vegan lemon bar recipe, this edition is guaranteed to leave you craving a snack (or two!).
Earlier this year, the judges at Michelin awarded their highly coveted stars to 57 vegetarian and 24 vegan restaurants around the world. Our global climate editor and in-house foodie, Blair Palese, wrote a piece last week discussing Michelin's move to plant-based climate stars. You can read it here.
In other climate-positive food news, the popularity of plant-based milk is skyrocketing even further. I recently heard that Blue Bottle Coffee (one of the few coffee chains that I actually love) is considering making oat milk their default option in their drinks — customers will have to specifically request to swap for dairy milk. Now that will be a big win for plant-based milk.
As always, we'd love to hear from you: Reach out to say "hi" at style@climateandcapitalmedia.com or follow us on Instagram @climateandstyle.
In case you missed last month's Climate & Style, you can find it here.
So dive in, grab a snack, and have some fun. We'll see you next month!
Jyotika Bindra
Editor, Climate & Capital Media
Cocoa Runners
Location: London, UK
All you chocoholics out there — you're going to love this one. If you're looking for delicious, ethical, climate-friendly chocolate, Cocoa Runners is the place to go. They curate the best single estate craft chocolate bars from makers and farmers all over the world (they have over 1000 bars from over 50 countries in their chocolate library) and deliver them to your doorstep. I was browsing through their website today and came across this very interesting product. Pacha de Cacao is a type of fruit juice made from the white pulp found in cacao pods. Typically, the beans are harvested to make chocolate and the pulp is discarded. Pacha uses this leftover pulp to make a juice that reduces waste, it's an extra source of income for the cacao farmers, and is both delicious and nutritious. I haven't tried it myself, but reviews say it's like a sweet and tangy tropical fruit juice.
If you're not sure where to start, you can order a tasting kit and sign up for a virtual chocolate tasting — these can be delivered all over the world. Last month, I got to do one of these tastings (held on Zoom), hosted by their awesome founder, Spencer Hyman. It was super fun, informative, and of course — DELICIOUS! Spencer told us where the beans for each bar came from, what to look for when tasting a bar of chocolate (fun fact: did you know that if you touch a piece of velcro while tasting a piece of chocolate, the sensation in your mouth changes?), the environmental benefits of craft chocolate, and wrapped up the tasting with a quiz. 10/10 would recommend! Photo: Cocoa Runners
Use the code "CCMVT10%" to get 10% of your tasting kits!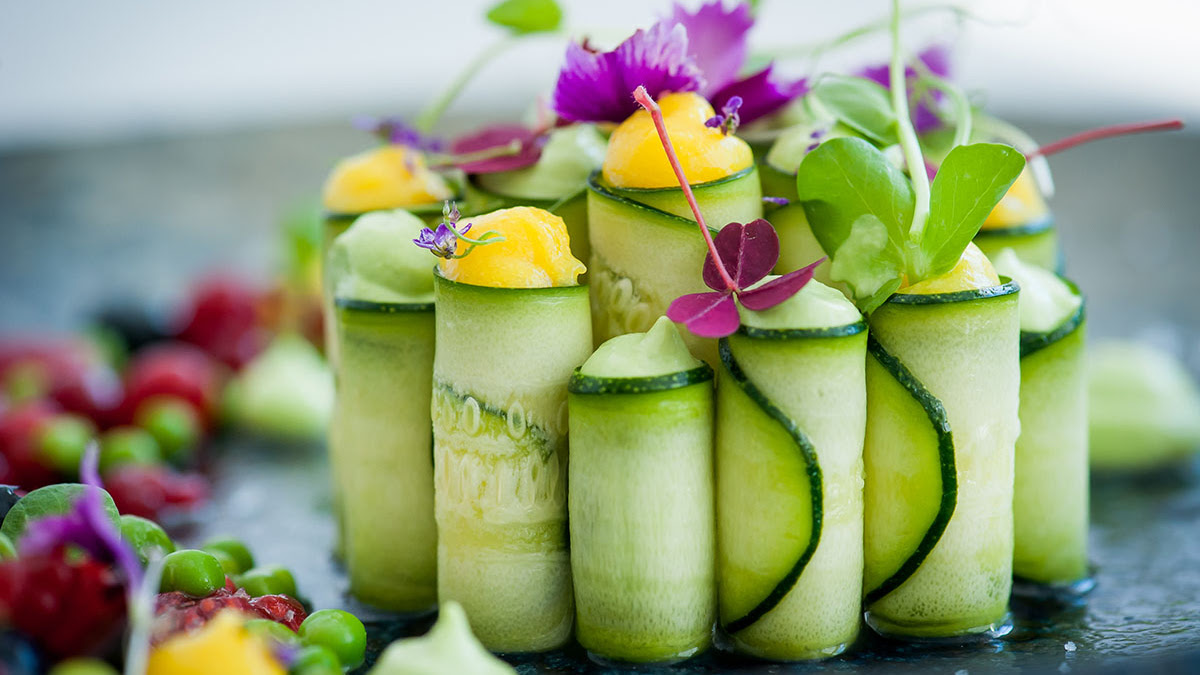 ONA
Location: Arès, France 
Michelin is going vegan. Earlier this year, chef Claire Vallée's restaurant ONA was the first vegan restaurant in France to receive a Michelin star. And you know if French fine dining goes vegan, the rest of the world will follow. Each dish at ONA is a work of art, carefully created with fresh and beautiful ingredients (which are of course seasonal, organic, and local). Claire's kitchen has 140 varieties of edible plants, and her impressive eleven-course vegan menu stars ingredients like daisies, seaweed, sake, tonka and hibiscus, to name a few. And to top it off, the restaurant uses renewable energy and all their food waste is composted. I know where I'll be eating when I can make a trip to France!
Our global climate editor and in-house foodie Blair Palese wrote a piece last week discussing Michelin's move to plant-based climate stars. You can read it here.
Mr. & Mrs. Watson
Location: Amsterdam, The Netherlands
You can't go to Amsterdam without a visit to the legendary coffee shops, biking along the canals — or trying the cheese. At Mr. & Mrs. Watson you can find a delightful selection of cheeses, perfect for a wine and cheese night at home (you can get their cheese delivered in the Netherlands, Flanders and Brussels). And the best part? They are made from 100% plant-based ingredients (although you won't know the difference). You can choose from an Aged Camemberti, an apricot cumin cheese wheel, or a Faux Goat cheese, amongst others. The star ingredient in their soft cheeses is cashew, which lends a lovely soft and creamy texture, while their hard cheeses use a blend of different seeds. They also have a plant-based restaurant that is the perfect spot for a date night, and the menu looks incredible. A prosecco cheese fondue?! Count us in! Photo: Mr. & Mrs. Watson
Vegan lemon bars
If chocolate isn't for you (do you people actually exist??), or the pandemic has you stuck at home, I have an incredible vegan lemon bar recipe for you to try instead. Our social media intern and vegan-recipe-taste-tester, Julie Beedle, recently tried this recipe by The Green Loot (check out their 2021 vegan guide if you're new to being vegan, or have recently started experimenting with vegan cooking), and has been raving about them. They're light, tangy, subtly sweet, and go so well with a cup of coffee.
Ingredients:
For the base:
1 ½ cups all-purpose flour

½ cup granulated sugar

¼ teaspoon salt

½ cup coconut oil softened

½ cup unflavored soy or almond milk
For the lemon curd:
⅔ cup lemon juice (5 lemons)

½ cup granulated sugar

¼ cup cornstarch

2 tablespoons lemon zest

½ teaspoon lemon extract

¼ teaspoon salt

Pinch turmeric optional, for color (we didn't use this)

¾ cup coconut cream
For topping:
Instructions:
Preheat the oven to 350 F (175 C) and grease the baking pan.

Mix the flour, sugar and salt in a medium mixing bowl. Add the coconut oil and combine until the mixture is fine crumbs.

Stir in the milk to form a dough.

Press the dough evenly into the baking pan. Bake in the oven for 20 minutes.

Add the lemon juice, sugar, cornstarch, lemon zest, lemon extract, salt and turmeric (if using) into a small saucepan. Whisk until combined.

Place the saucepan over medium heat and whisk in the coconut cream. Let the mixture simmer for 1 minute.

Once the base is ready, pour the lemon mixture over it, and smooth it out into an even layer.

Bake for another 15 minutes — you should see bubbles!

Remove the pan, allow it to cool and sprinkle powdered sugar on top.

Enjoy with a cup of coffee or tea!